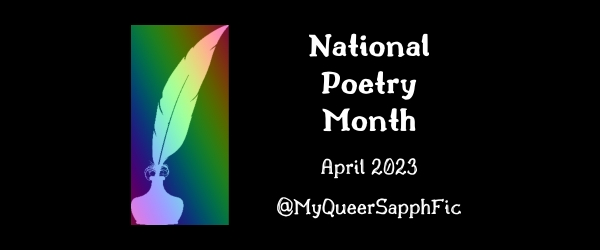 April is National Poetry Month in the United States. What better way to celebrate it than with sapphic poetry?
The word 'sapphic' comes from the name, Sappho. Sappho was an ancient Greek poet who lived on the island of Lesbos in the 7th century BC. She is considered one of the greatest lyric poets of all time, and her work has been translated into many languages. Sappho's poetry is characterized by its beauty, passion, and emotional intensity. She wrote about a wide range of subjects, including love, loss, nature, and music.
Sappho's poetry is also known for its homoerotic themes. She wrote many poems about her love for other women, and her work has been celebrated by lesbian and bisexual women for centuries.
Sappho's poetry was widely read and admired in ancient Greece, but it fell out of favor in the Middle Ages. Her work was rediscovered in the 16th century, and it has been the subject of much scholarly debate ever since. Sappho's poetry is still relevant today, and it continues to inspire and move readers around the world.
A sample of Sappho's poetry (translated, of course):
"Come, my friends, let us leave the meadow
And go up to the temple of Artemis.
There we will dance and sing
In honor of the goddess of the moon.
Let us crown our heads with garlands
And weave ivy around our arms.
Let us sing of love and beauty
And the joys of springtime."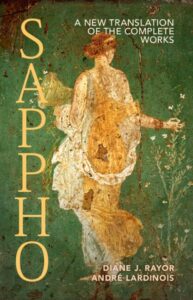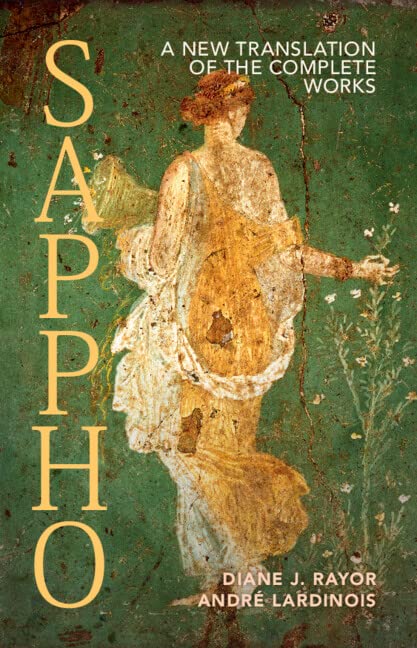 Sappho's poetry is a beautiful and moving testament to the power of love. Her work continues to inspire and resonate with readers centuries after she wrote it.
This translation of her poems and fragments was published in February of this year.
Some other popular Sapphic Poets are:
Adrienne Rich (1929-2012): An American poet, essayist, and feminist. Rich's poetry often explores themes of love, loss, and the female experience. She is considered one of the most important poets of the 20th century. Her work spanned decades as evidenced by the collection of poems from 1950 to 2012.
Audre Lorde (1934-1992): A Caribbean-American poet, essayist, and activist. Lorde's work often explores themes of race, gender, and sexuality. She is considered one of the most important writers of the Black feminist movement. The Collected Poems volume of Audre's poetic work includes more than 300 poems. Her essays in her work, Sister Outsider are also must reads.
Sharon Olds (born 1942): An American poet known for her frank and often erotic poems about love, sex, and the body. Olds has won numerous awards for her work, including the Pulitzer Prize and the National Book Critics Circle Award. She has several collections of her poetry. The 'current' most popular volume is the collection of long-flowing poems and songs, Balladz.
Tracy K. Smith (born 1972): An American poet and former Poet Laureate of the United States (2017-2019), who won the Pulitzer Prize for Poetry in 2011 for her collection, Life on Mars (Out first in paperback. The eBook came several years later). Smith's work often explores themes of race, identity, and memory.
Jericho Brown (born 1976): An American poet who won the Pulitzer Prize for Poetry in 2020 for her 2019 collection, The Tradition. Brown's work often explores themes of love, loss, and masculinity.
Some of my personal sapphic favorites include Audre Lorde's work and Ocean Vuong's (A queer male poet). There are a few more whose work I enjoy, including another 'Ocean.'
Ocean (Cocco): If you're on social media, you've seen snippets of her poetry. She's a contradiction, this woman, writing horror one moment and poetic testaments to life, love, and loss the next. I'm not sorry to say I pushed her to put her one published collection, Love you Like a Woman, together! Her work is the reason I started to read poetry again – and sapphic poetry in particular – after many years away. Get the book and/or follow her on Twitter or Facebook.
Arhm Choi Wild (Amazon paperback edition), now known as Noah Arhm Choi (they/them) (hardcover editions): The author of Cut to Bloom, winner of the 2019 Write Bloody Prize from Write Bloody Publishing. They received the 2022 Ellen Conroy Kennedy Poetry Prize. Please note: We don't take dead-naming lightly. We're simply trying to portray the poet's work accurately as far as how it is available.
Do you have a favorite sapphic poet I missed? I'd love to hear more! Feel free to comment.
~ Anne
P.S. – Bonus List! These are the works published in 2022 that are finalists for the 2023 Lambda Literary Award for Lesbian Poetry:
Shelley Wong: As She Appears
Natalie Wee: Beast at Every Threshold
Courtney Faye Taylor: Concentrate
Brynne Rebele-Henry: Prelude
Rage Hezekiah: Yearn
You can get more information and retailer links in our special Lammy Finalist post, here.