Anne Hagan: I recently had an interesting Twitter DM exchange with Felice Cohen. For my blog post this week, I asked her a 'few' questions.
Anne: Tell us about yourself, Felice.
Felice: I am an author, motivational speaker, Holocaust educator and professional organizer. I am the oldest of three daughters and I split my time between New York City and Cape Cod, MA where I grew up and my family lives.
Anne: You originally approached me about your memoir, 'Half In.' Please tell us about the book and why you wrote it.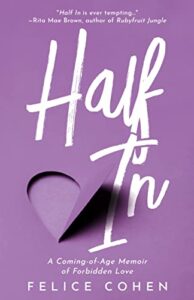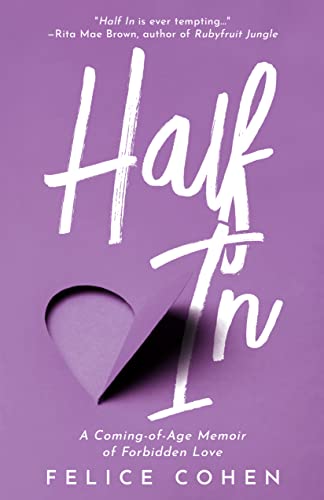 Felice: Half In: A Coming-of-Age Memoir of Forbidden Love is about the secret, lesbian, age-gap affair I had with my boss, Sarah, when I was 23. She was 57 and had a long-term lover. It's also about figuring out your sexuality and where you fit in the real world.
The affair lasted for ten years until Sarah's death, upon which I mourned her as I'd loved her: in secret. I carried a lot of shame from the affair partly because it was a gay relationship, and partly from the age difference. I feared what people would think. (This was the early 90s when it was "Don't ask, don't tell.")
I started to write about us as a way of dealing with her death. Every subsequent relationship after Sarah I was only ever half in, unable to fully love anyone else as I was still stuck on Sarah. The writing was helpful, but if I wanted to love again, if I wanted to move on, I knew had to tell our story.
Anne: I'm truly sorry for your loss. In our first conversation, I wasn't aware Sarah had passed and I asked you if she had read your book. How do you think she would have felt about it?
Felice: Sarah always supported my writing and even joked early on in our affair that I could one day write about us. She died 20 years ago so she never saw the book. But I know she would have given it her blessing.
Anne: 'Half In' wasn't your first book. What was, and what prompted you to write it?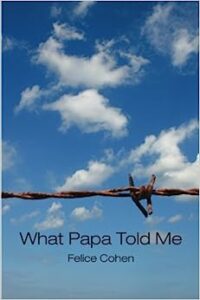 Felice: My first book, What Papa Told Me, is about my grandfather's life before, during and after the Holocaust. In college I learned that my maternal grandmother, the woman I am named after, didn't die of cancer as I'd been told, but committed suicide. When I asked my grandfather why she did it, to explain he had to talk about something he'd never spoken about with anyone, and that was about her experience in Auschwitz.
I wrote an op-ed about my grandmother in college (I was a weekly columnist) and after that my grandfather asked me to tell his story. It was only supposed to be for the family, but then when the video of my tiny apartment went viral, that book sold around the world. It's taught in schools, has been translated to Polish, and I've spoken to over 25,000 people around the world about my grandfather, and I'm still getting asked to speak about him.
Anne: You mentioned a video about your 'tiny apartment' as you were speaking about your grandfather. After we first spoke, I went out and found the video and watched it. It gave me dorm room/barracks room flashbacks, but not at all in a bad way. Some good memories from those times! I digress…So, at least one video is still out there and you published a book in 2016 to go along with it that's been of interest to readers from all walks of life. Readers want to know; how did you do it and for how long?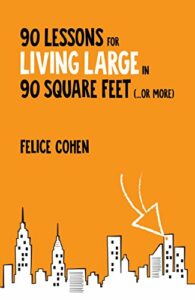 Felice: I moved into that tiny apartment because the low rent allowed me to quit my stressful job (as chief of staff to the president at Hunter College) and finish writing What Papa Told Me. I planned to stay only one year, putting 77 boxes into storage, but at the end of that year, I loved my lifestyle and didn't want to leave. I was living life on my own terms, getting up when I wanted, spending my days writing, organizing apartments, cycling, traveling.
I ended up staying 5 years and left only because I was evicted. Every year I stayed I went back to storage and got rid of stuff based on the not needing or wanting it. After 5 years I got rid of all of it. After the video went viral (it now has over 25 million views) I was interviewed on Good Morning America. The landlord saw me, saw my name and realized I was subletting illegally.
After five years I had saved a lot of money (low rent, yes, but with little space I hadn't bought much), and my grandfather helped me buy a larger place. I then wrote 90 Lessons for Living Large in 90 Square Feet (…or More). It's about how I wound up living in that space, how it changed my life, and it also gives tips on organizing and decluttering.
Anne: What are you working on now?
Felice: I am a minimalist, but the one thing I saved all my life was every handwritten letter I've ever been sent from family, friends and exes. I've put them (about 1,000) together into a book and am creating what I at first was calling a "reverse memoir," but the more I edit it, the more I realize it's actually stories about people in my life, I'm just the common denominator, the one person these people have bared their souls to.
Anne: When will it be out?
Felice: I'm hoping it comes out next year.
Anne: Have you written any fiction? If so, what?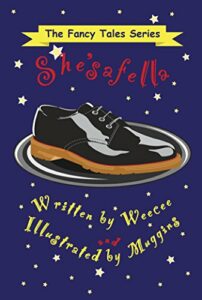 Felice: I write the series The Fancy Tales. They are modern day versions of the classic fairy tales (Cinderella, Peter Pan, etc.) we all grew up with that take place in New York City and contain a wholesomely presented and slightly sophisticated LGBTQ+ twist. All the magic happens in Central Park.
These tales (She'safella, Peter Pan Zee, etc.) are for kids, teens, and adults (gay or straight!) to enjoy. Most boys and girls grow up reading fairy tales where the prince finds his princess. But what about those boys who dream of meeting the boy of their dreams? Or those girls who dream of finding the girl of their dreams? For them, there are The Fancy Tales.
Anne: Tell us about your writing process.
Felice: Write a first draft, then edit, edit, edit, edit, edit. I like to write from 6 to 10am, when my mind is most fresh. I can go back in the late afternoon and edit if I need.
Anne: Coffee or tea? 
Felice: Tea! Numi Gunpowder green tea. I also have an addiction to chai lattes, but they're too much sugar so I've had to quit cold turkey a few times.
Anne: I'm always happy to find a fellow tea drinker in the age of coffee everything! Now, how about your favorite meal?
Felice: Roasted salmon and roasted vegies. Or anything my mom makes. Or breakfast for dinner!
Anne: Breakfast for dinner is always a popular choice in my house. And, frankly, I loved it growing up, too.
Anne: What do you do for fun?
Felice: Cycling, rollerblading, stand up paddleboarding, hiking, walking, reading, jigsaw puzzles, hanging with my family.
Anne: One more…What's your weirdest habit/skill?
Felice: I can still recite the first 30 elements in the Periodic Table of Elements. I can also juggle. And if you throw grapes at me, I can catch them in my mouth.
Anne: Somehow, I suspected the juggling… It's been great talking with you, Felice!
Follow Felice: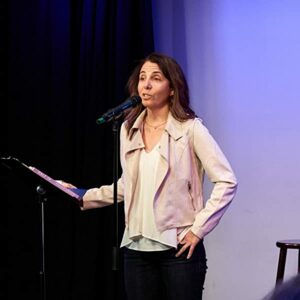 Website: https://www.felicecohen.com/
Instagram: https://www.instagram.com/felicecohen90/
Facebook: https://www.facebook.com/felicecohenauthor
Twitter: https://twitter.com/FeliceCohen
YouTube: https://www.youtube.com/results?search_query=felice+cohen+channel
'Half In' at Amazon: https://www.amazon.com/Half-Coming-Age-Memoir-Forbidden/dp/B09XZM7FC2 (but book can be purchased anywhere you buy books). It's available in paperback, ebook and audiobook.