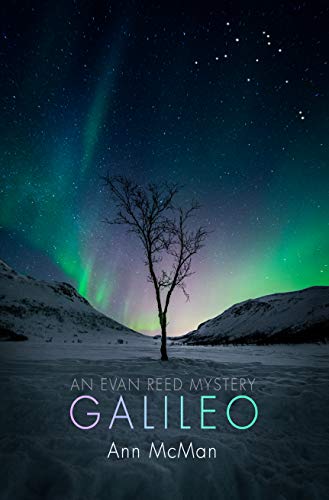 Galileo was awarded the 2020 Lambda Literary Award in the Lesbian Mystery category.
Tim Donovan is a Catholic priest with a guilty conscience—though not in the way you'd guess. And Katherine Donne is a Parisian socialite who long ago kicked her self-respect to the curb—for good and for ill. And much closer, we have a group of men whose fortunes, graying temples and positions in life are distinguished and enviable. But their morals? Anything but. And that's where Evan Reed comes in. Evan (short for Evangeline) is a highly principled political operative with an imperfect past, tasked with uncovering compromising material on a rotten judge up for nomination to the U.S. Supreme Court before he can be rushed through confirmation.
Evan knows it won't be simple to find damaging information against the judge because he's been vetted many times before. When Evan pulls the string after an interview with a cryptic madman, she finds herself struggling to solve a puzzle that gets more complex by the hour. And where crime, money, conscience, and greed come together, danger is sure to lurk. In this sequel to Dust, Ann McMan takes the reader on an intense journey into a world that lies just beneath the thin veneer of civilization—a world teeming with power struggles and warped desires, and a subculture of promises made, kept, and broken.
As Evan pushes further into peril, her personal life sparks into flame with the increasing presence of the ravishing Julia Donne, a book publisher with a progressive bent and troubling questions about her late father. McMan's specialty of intertwining a hot romance into heart-pounding suspense just keeps getting better and better.
Listing ID

:

2659

Author

:

McMan, Ann