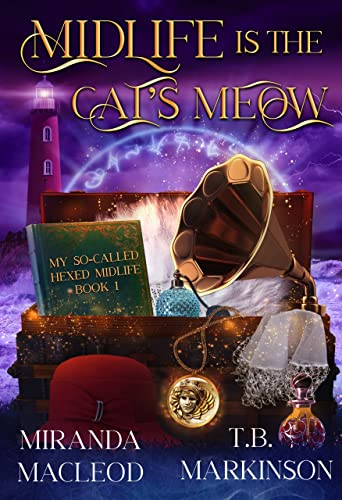 A witch without powers. A secret to die for. A midlife sapphic awakening.
A few months ago, I thought I had it all. My life as a forty-something suburban mom in Cleveland might not have been stimulating, but sometimes excitement is overrated. Like when FBI agents knock down your door on the hunt for your crook of a husband. Thrilling? Maybe. But I wouldn't recommend it.
After twenty-five years, I'm returning home without a penny to my name. But there are far worse things than living in your family's bed-and-breakfast on a remote island in Maine. Being a witch who's lost her powers, for example. Or having two daughters on the brink of getting their magic and having no idea they're witches.
To complicate matters, a mysterious group of magical enforcers called the Shadow Council blamed me for my twin sister's death years ago and banned me from ever returning home. But I have nowhere else to go.
My plan is to keep a low profile, land a job, and get back on my feet. My plan does not include finding a mysterious old trunk in the attic, having a famous author drop dead while staying at our inn, being haunted by his ghost, or having my powers return in scary and unexpected ways.
I can also assure you I have no intention of developing a crush on someone who will have me questioning everything I ever thought I knew about who I am.
Then again, you know what they say about the best laid plans…
If you're hungry for a paranormal story that celebrates women over 40 and strong female friendships, with snarky humor, quirky family members, a mischievous cat, a murder mystery, time travel, ghosts, and a leather wearing, motorcycle-riding physician who sparks an unexpected midlife sapphic awakening, look no further than Midlife is the Cat's Meow!
Listing ID

:

3985

Author

:

Markinson, TB and MacLeod, Miranda