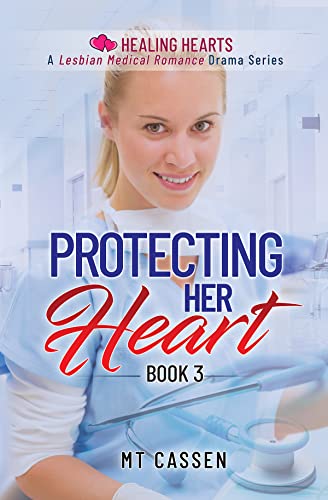 When work and school become too much to handle, can a young woman fight the fight to make all her dreams come true? And when love blossoms in the most surprising way, will she recognize what's right in front of her eyes?
When an opportunity opens up in a new nursing program at the hospital, Bella Strong quickly accepts it. Now she has her life all mapped out, with full-time school, her relationship with Jackson, and her career blossoming; and she's prepared to make all her dreams become a reality.
Then she meets Dr. Leona Guillano, and suddenly everything she thought she wanted, has gotten a little hazy in the process.
Luckily, Bella has too much on her mind, and that doesn't include falling in love with the beautiful doctor. She has a boyfriend, and will soon be graduating college and headed for the nursing career she's longed for.
Leona left New York City for a new chapter of her life. What she didn't anticipate was finding the younger woman appealing, to the extent that she would do anything to protect her. Even if it puts her own job at stake.
In Leona's eyes, their chemistry sparks flames immediately. However, Bella seems to be focused on her work and that causes Leona to take a step back. If the younger woman is distant, then perhaps she should tread lightly. It's best, anyway, because the last thing Leona needs is another broken heart.
Yet, Bella's eyes have a way of drawing her in and tossing Leona towards her in a way that is hard to ignore. If only she could break through those barriers that Bella keeps putting up between them.
Can Leona break through those barriers, revealing a secret that Bella has kept from her? Plus, will Bella allow her to get close enough to knock them down, when it includes being honest with everyone, including herself — especially herself?
Bella and Leona share a love that could surpass all expectations, but it will take true courage for Bella to succumb to her deepest desires. And she's been protecting her heart long enough, will Leona be the woman that can let herself go?
Protecting Her Heart is a story of two women who must be honest with each other and themselves if they truly want to risk everything and ignite the fire between them.
Two women, one love. Sometimes, your heart knows better than to settle for comfortable safety!
Lose yourself in confusion and courage with Tabby and Leona.
What Do You Do If Everything You Worked For Is Pushing You Furthest From Everything You Want?
Listing ID

:

3545

Author

:

Cassen, MT