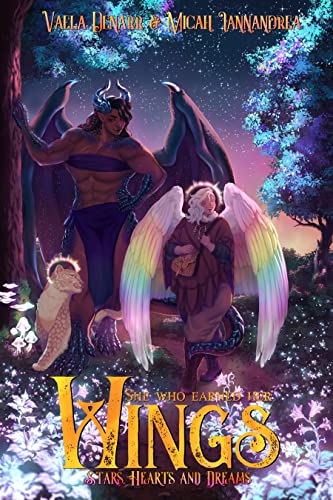 One does not learn to fly without taking a leap. And one has to fall to be caught.
Nomi is a young druid finally taking the chance to spread her wings and leave her home. To see the world and discover its magic, beauty… and maybe love. Calia is a dragon on the hunt for angels, trying to square an old debt. That, and to get Laura, her desired bondmate, to finally return to her side, where she belongs.
Nomi immediately catches the eye of the powerful dragons. Calia entices her with honeyed words and a skillful tongue. On the other hand, Laura, much smaller but equally intimidating, takes it upon herself to protect her.
Despite the warnings, Nomi can't help being drawn to Calia's charm, her power, her fangs… and the hidden gentleness in her eyes. She promises danger where Laura promises safety, and Nomi is torn between the two. Luckily there is a convenient cult out for the dragons' heads, providing Nomi with ample distraction and at least one dragon egg to steal, hatch, and raise by herself. Perfectly normal things for a young transgender druid to get involved in!
In the clutches of dragons, battling dark forces from beyond the stars, Nomi faces the questions of who she is and who she wants to be. Whether she deserves the love offered to her, and what it truly takes to earn her wings…
Listing ID

:

3901

Author

:

Daenarr, Vaela and Iannandrea, Micah