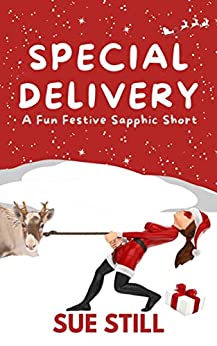 Christmas Eve Night. A cottage in Wales. A strange woman in a Santa outfit.
Samantha Cole wakes in the middle of the night on Christmas Eve to the sound of thumps, bumps, and bangs.
To her horror, she finds a strange woman in her house, dressed in a saucy Santa costume.
The woman insists she is Santa's granddaughter, Holly, and is there for a special delivery to that address.
Holly is tall, Amazonian looking, and sexy as hell. Sam's instantly attracted to her, but she doesn't trust her. Or anyone.
Everything Holly represents rubs Sam up the wrong way. Brings out her defences and shrouds her in disbelief.
Especially Holly's flirty nature and the insistence that she's there to leave the present.
Sam lives alone in her little Welsh cottage and the nearest police station is over an hour away.
It is all too much. Besides, Sam doesn't do Christmas.
Sam lost her beloved mother on Christmas day when she was little. Since then, she has closed herself off, shut the door, and cancelled Christmas for good.
Listing ID

:

3272

Author

:

Still, Sue