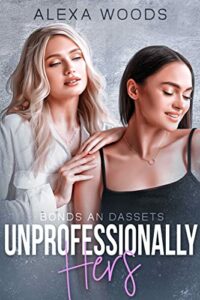 In the world of finance, everything is calculated – but can a new employee with a secret and an icy CEO equate to something more?
Meg never planned to enter the world of finance – until her brother's medical bills forced her hand. Desperate to save him, Meg strikes a deal with the devil, aka her boss.
The task?
Secure a job at their rival firm, Crystalline Financial, win over their CEO Alba, and obtain classified information. Doable but for one not-so-minor complication: Meg already knows Alba.
A little too closely.
Level-headed perfectionist and a titled ice-queen Alba knows only one goal: Take her father's company to new heights of success. To do it, she never lets emotions get in her way. There's only one path: Forward.
That's until the past comes calling: She and Meg, her new employee, shared a whirlwind night of passion that was never meant to be more than that. Alba knows to protect her future; Meg must go. If only she weren't so hardworking, sweet, and incredibly gorgeous.
Despite Alba's frosty exterior, Meg refuses to give up, and soon, she sees the warm, beautiful woman behind the cold façade. Unaware of Meg's motives, Alba can't help but get drawn into their old passion. As their feelings intensify, Meg and Alba get entangled in a web of lies, deceit, and a magnetic, forbidden romance.
Will they "unprofessionally" give in to their hearts' desire and risk everything they've worked for?? Or will the lies they're keeping break them apart – this time forever?
Alba and Meg's story is the first in the "Bonds and Assets" captivating and steamy FF romance series by Sienna Harper and Alexa Woods. While each book in the series can be read as a stand-alone with a guaranteed happily ever after for the couple, Alba and Meg's story sets the tone for the rest of the series.
Listing ID

:

3708

Author

:

Woods, Alexa