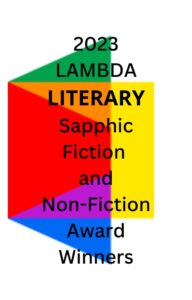 Lambda Literary announced the 2023 Lambda Literary Award (Lammy) winners on Friday, June 9th, at their annually held awards presentation.
We previously pulled all of the books with sapphic characters and themes out of the list of Lammy finalists. That post is here.
Please note: This article uses the terms sapphic and lesbian because while the literary world is increasingly moving towards a more expansive definition of sapphism, Lambda Literary still uses 'L' for lesbian writing in its awards program.
Lesbian/sapphic fiction, memoir/biography, romance and poetry each have their own Lammy categories. This tends to be true for gay, bisexual, and transgender works too. Other categories are combined and presented as 'LGBTQ+' including comics, drama, erotica, mystery, spec fiction, YA, Middle Grades, and more.
In our previous post we noted the panel of 65 judges had their hands full when it came to deciding on the Lambda Literary Award finalists – with over 1,350 books to choose from spread through 25 categories. Eventually, five finalists were chosen in each category. We highlighted those specifically relating to sapphic or lesbian content in the post linked above, and also shared some of our top picks from the LGBTQ+ and bisexual genres that had more sapphic elements.
Now…Lambda Literary has given us the winners and what a list it is! Lots of sapphic/lesbian themed works in the all inclusive LGBTQ+ categories were awarded.
Drumroll!
Lambda Literary Award Winners
Category and Title
Author
Publisher
Lesbian Fiction
Gods of Want

Startling stories center the bodies, memories, myths, and relationships of Asian American women in "a voracious, probing collection, proof of how exhilarating the short story can be" (The New York Times Book Review)
K-Ming Chang
One World
Bisexual Fiction
Reluctant Immortals

"For fans of Mexican Gothic, from three-time Bram Stoker Award-winning author Gwendolyn Kiste comes a novel inspired by the untold stories of forgotten women in classic literature..."
Gwendolyn Kiste
S&S / Sage Press
Young Adult
The Lesbiana's Guide to Catholic School 

A sharply funny and moving debut novel about a queer Mexican American girl navigating Catholic school, while falling in love and learning to celebrate her true self.
Sonora Reyes
HarperCollins: Balzer + Bray
Bisexual Nonfiction
Appropriate Behavior 

Premiering at Sundance in 2014, Desiree Akhavan's acclaimed debut feature, Appropriate Behavior, introduced the indie film world to the deadpan, irreverent wit that had already won over fans of her trailblazing LGBTQ web series The Slope.
Maria San Filippo 
McGill-Queen's University Press
LGBTQ+ Speculative Fiction
The Wicked and the Willing 

Love demands sacrifice. Her blood. Her body. Even her life.
Lianyu Tan
Shattered Scepter Press
Lesbian Poetry
As She Appears 

Paperback Only

Shelley Wong's debut, As She Appears, foregrounds queer women of color in their being and becoming.
Shelley Wong
YesYes Books
Bisexual Poetry
Real Phonies and Genuine Fakes 

What is illusion—a deception, or a revelation? What is a poem—the truth, or "a diverting flash, / a mirror showing everything / but itself"?
Nicky Beer
Milkweed Editions
Lesbian Memoir/Biography
Lost & Found: Reflections on Grief, Gratitude, and Happiness 

"I will stake my reputation on you being blown away by Lost & Found."—Anne Lamott, author of Dusk, Night, Dawn and Bird by Bird
Kathryn Schulz
Random House
Lesbian Romance
The Rules of Forever 

Public school teacher Cara Talarico is determined to pay off her student loans by the time she turns thirty-five and has sworn off everything fun to make it happen—including dating.
Nan Campbell
Bold Strokes Books
LGBTQ Romance and Erotica
Kiss Her Once For Me: A Novel 

A festive romantic comedy about a woman who fakes an engagement with her landlord…only to fall for his sister.
Alison Cochrun
Atria Books
LGBTQ+ Mystery
Dirt Creek

Who's lying about what happened at Dirt Creek?
Haley Scrivenor
Flatiron Books