And so it began…
Two and a half years ago, indie author KC Luck established iReadIndies, a collective organization "to bring visibility, recognition, and support to independent authors who put their own time, effort, and resources into self-publishing quality sapphic literature."
Over the ensuing time, more than 200 indie authors have joined the collective at no cost. All are free to participate in free mentoring, training, group marketing efforts, anthologies and more. There are monthly author meetings, a newsletter for authors, social media outlets that allow the authors to collaborate, reader facing social media accounts, and reader groups on Facebook to promote the authors and their work. Indie book loving readers can also be on a mailing list just for them.
In the early days, near the tail end of the first major wave of the Covid-19 pandemic, there was talk of future writing retreats, conferences, and awards. It was a huge undertaking for KC, and a true labor of love.
KC has decided to step down. She's established quite a legacy, and she'll be missed…but she'll never be far away. In her stead, Erin and I are taking over, continuing her legacy, and building for the future.
Why take over iReadIndies?
We too love indie authors of sapphic literature and the readers who support them. Of all the books we advertise here at MyQueerSapphFic, 95% (or more) are indie. Our weekly newsletter has thousands of reader subscribers who love hearing about discounts on and new releases of the books they love.
All of that said…we've decided we need to make two immediate changes that will help us reach out to more authors, reach more readers, and grow for the future.
We're incorporating and changing the name (slightly) to iReadIndies International – AKA iReadIndies International Inc. – We'll still have the roots of a collective, but with open arms to the world of sapphic indie literature, the diversity of the writers and authors who create it, and all the readers who love it.
We're applying to make iReadIndies International Inc. a non-profit organization. – We've got a few hoops to jump through to get there including getting the transition made/website back up and running under our management, filing our non-profit application, and obtaining tax exempt status.
Moving forward and into the foreseeable future, I'll be the executive director of what we've been calling iRI, for short. I'll be responsible for most of the transition effort, and the day to day operations of iRI thereafter. With KC's help and some input from members of the collective, We've already vetted a small starting board of directors to stand up the new iteration of our not quite so new organization. The board will oversee the organization and keep me in line!
Erin Hodgson will serve as the first President of the board. Serving as members and other officers will be authors Edale Lane and Max Ellendale, and voracious reader and editor Tammie Lynn. Going forward, board positions can be added as needed. Multiple authors and a few readers have volunteered to help in other capacities.
Why a non-profit?
KC paid for nearly everything out of her own pocket, out of the goodness of her heart. As we grow and plan things like a more formal mentorship program, writing retreats, writer/reader conferences, visibility at established conferences and events, and annual awards, we're going to need funding.
The benefits of being a non-profit: We'll be able to receive tax-deductible donations, have access to grant funding, and we'll be better able to build credibility with donors and partners.
The challenges of being a non-profit: There are challenges, always, with any organization. For us our biggest challenges will be fundraising, managing volunteers, and complying with regulations.
The future: Being a non-profit will allow us to make a difference in the lives of indie authors and the readers who love great books by giving us not only the platform KC started, but the ability to grow and change with the times…and they are heady times we live in!
What's next?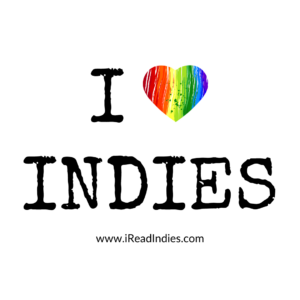 The website will be down for a few more days or so, as we transition. Watch for it to return and (over time) expand, watch your iReadIndies email (if you joined the list before the transition), and watch social media. We'll resume all of the things below and more, soon:
Book contests and giveaways
Indie author anthologies in multiple genres (mass giveaways!)
Author Spotlights/Readings
Author (self published/aiming to publish) and writer (write for fun) specific groups for brainstorming, networking, collaboration, venting, and more.
New release announcements
Mentoring
Resource listings
Author classes and masterclasses on craft, editing, publishing, and marketing…especially marketing!
Additionally, with funding, volunteers, and lots of planning and coordination we're aiming for:
A website that showcases the authors of the collective and their books, where readers can find great books by genre and trope.
Membership sites like KoFi and/or Patreon with exclusive content from authors of the collective to support iReadIndies and programming for the authors of the collective.
Awards in 2024 for 2023 works and the establishment of a formal awards nominating and judging process for future years.
Writing retreats in at least two locations (US and abroad?) beginning in 2024.
A small (weekend?) conference in Scotland in 2024. Exact location to be determined.
Representation at various levels at US based conferences in 2024 like GCLS (July, location to be determined), Women's Week (October, Provincetown), LCLC (October, Palm Springs, California) – We'll likely – unfortunately – skip ReadOUT in Gulfport, Florida for 2024 and regauge the political climate there in 2025.
A first iRI US based conference with an awards presentation in 2025, likely in Columbus, Ohio for the first year.
We're building on a solid foundation from a great legacy, and we're just getting started!