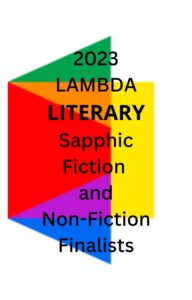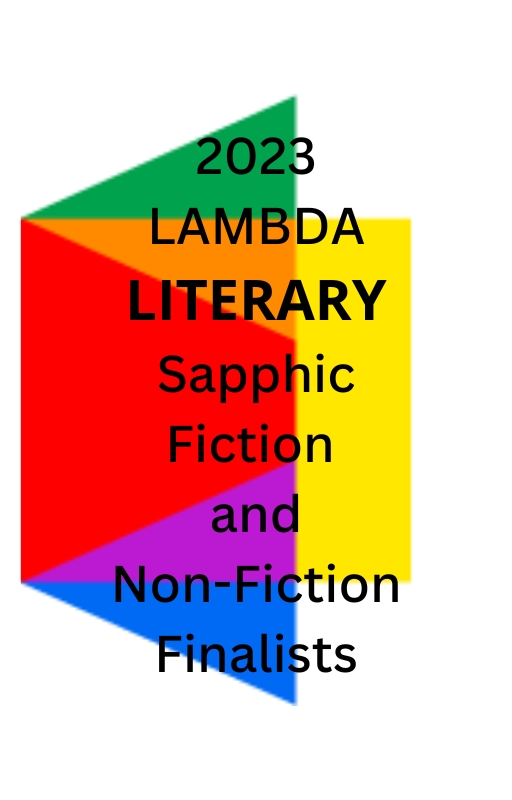 Recently, Lambda Literary unveiled the finalists of their 2023 Lambda Literary Awards, commonly referred to as the Lammy's or Lammy Awards. Since 1989, this organization has granted awards for LGBTQ+-centered fiction and non-fiction works. The winners are announced in June of the year following when these books were published and submitted for consideration after a judging round. What initially was an award program centered on non-fiction and literary fiction stories with a gay male perspective has changed into an event that now encompasses categories devoted to sapphic/lesbian content, bisexual works, and transgender works.
Please note: This article uses the terms 'sapphic/lesbian' because while the literary world is increasingly moving towards a more expansive definition of sapphism, Lambda Literary still uses 'L' for lesbian writing in its awards program.
Lesbian/sapphic fiction, memoir/biography, romance and poetry each have their own Lammy categories. This tends to be true for gay, bisexual, and transgender works too. Other categories are combined and presented as 'LGBTQ+' including comics, drama, erotica, mystery, spec fiction, YA, Middle Grades, and more.
We're focusing on this with this post because the Lammy Awards tend to recognize more books from academia, university presses, and major publishers, more so than those from dedicated LGBTQ+ and sapphic specific small presses. Unfortunately, these authors and their works often don't reach the sapphic reading community that frequents online platforms, sapphic bookstores and coffee houses, and other places where sapphics and sapphic friendly readers gather. They miss the chance of being bought, read, and talked about.
This year, the panel of 65 judges had their hands full when it came to deciding on the Lambda Literary Award nominees – with over 1,350 books to choose from. Eventually, five finalists were chosen in 25 categories. We've highlighted those specifically relating to sapphic or lesbian content for you to browse through, and also shared some of our top picks from the LGBTQ+ and bisexual genres that have more sapphic elements.
Lambda Literary Award Finalists
Category and Title
Author
Publisher
Lesbian Fiction
Big Girl: A Novel

An extraordinary debut novel shot through with remarkable nuance and tenderness, Big Girl traces the intergenerational hungers of the profoundly lovable Malaya Clondon.
Mecca Jamilah Sullivan
W.W. Norton & Company
Gods of Want

Startling stories center the bodies, memories, myths, and relationships of Asian American women in "a voracious, probing collection, proof of how exhilarating the short story can be" (The New York Times Book Review)
K-Ming Chang
One World
Jawbone

"Was desire something like being possessed by a nightmare?"
Mónica Ojeda, translated by Sarah Booker
Coffee House Press
Nightcrawling 

NEW YORK TIMES BEST SELLER • AN OPRAH BOOK CLUB PICK • A dazzling novel about a young Black woman who walks the streets of Oakland and stumbles headlong into the failure of its justice system." (Tommy Orange, author of There There).
Leila Mottley 
Alfred A. Knopf
Our Wives Under the Sea: A Novel 

"A deeply strange and haunting novel in the best possible way…An impressive and exciting debut novel that may leave you thinking about your own relationships in a new light." —NPR
Julia Armfield
Flatiron Books
Bisexual Fiction
Meet Us by the Roaring Sea

New York Times Editors' Choice 2022
An NPR Books We Love 2022
 Akil Kumarasamy, Farrar
Straus and Giroux
Mother Ocean Father Nation 

A riveting, tender debut novel, following a brother and sister whose paths diverge—one forced to leave, one left behind—in the wake of a nationalist coup in the South Pacific.
Nishant Batsha
Ecco, HarperCollins
Reluctant Immortals

"For fans of Mexican Gothic, from three-time Bram Stoker Award-winning author Gwendolyn Kiste comes a novel inspired by the untold stories of forgotten women in classic literature..."
Gwendolyn Kiste
S&S / Sage Press
Roses, In the Mouth of a Lion: A Novel 

For fans of On Earth We're Briefly Gorgeous and A Tree Grows in Brooklyn, an unforgettable story about female friendship and queer love in a Muslim-American community
Bushra Rehman
Flatiron Books
Stories No One Hopes Are about Them

Stories No One Hopes Are about Them explores convergences of power, privilege, and place.
by A.J. Bermudez
The University of Iowa Press
Young Adult
Burn Down, Rise Up 

Mysterious disappearances. An urban legend rumored to be responsible. And one group of friends determined to save their city at any cost.
Vincent Tirado
Sourcebooks Fire
Funny Gyal: My Fight Against Homophobia in Jamaica


Angeline Jackson stands up to the culture of homophobia in Jamaica by sharing the story of her sexual and spiritual awakening as well as her traumatic experience of "corrective rape."
Angeline Jackson with Susan McClelland
Durden Press Ltd
Lakelore 

Two non-binary teens are pulled into a magical world under a lake - but can they keep their worlds above water intact?
Anna-Marie McLemore, Feiwel & Friends
Macmillan Childrens Publishing Group
The Lesbiana's Guide to Catholic School 

A sharply funny and moving debut novel about a queer Mexican American girl navigating Catholic school, while falling in love and learning to celebrate her true self.
Sonora Reyes
HarperCollins: Balzer + Bray
The Summer of Bitter and Sweet 

A powerful story about rage, secrets, and all the spectrums that make up a person—and the sweetness that can still live alongside the bitterest truth.
Jen Ferguson
HarperCollins: Heartdrum
Bisexual Nonfiction
Appropriate Behavior 

Premiering at Sundance in 2014, Desiree Akhavan's acclaimed debut feature, Appropriate Behavior, introduced the indie film world to the deadpan, irreverent wit that had already won over fans of her trailblazing LGBTQ web series The Slope.
Maria San Filippo 
McGill-Queen's University Press
Never Simple: A Memoir 

This gripping and darkly funny memoir "is a testament to the undeniable, indestructible love between a mother and a daughter" (Isaac Mizrahi).
Liz Scheier
Henry Holt / Macmillan
Open: An Uncensored Memoir of Love, Liberation, and Non-Monogamy 

An unprecedented exploration of polyamory and gaslighting.
Rachel Krantz
Harmony Books, Penguin Random House
The Crane Wife 

A memoir in essays that expands on the viral sensation "The Crane Wife" with a frank and funny look at love, intimacy, and self in the twenty-first century.
CJ Hauser
Knopf Doubleday Publishing Group
LGBTQ+ NonFicition
The Women's House of Detention: A Queer History of a Forgotten Prison 

This singular history of a prison, and the queer women and trans people held there, is a window into the policing of queerness and radical politics in the twentieth century.
Hugh Ryan
Bold Type Books, Hachette Book Group
LGBTQ+ Speculative Fiction
The Book Eaters

An International Bestseller
An NPR Best Sci Fi, Fantasy, & Speculative Fiction Book of 2022
A Book Riot Best Book of 2022
A Vulture Best Fantasy Novel of 2022
A Goodreads Best Fantasy Choice Award Nominee
A Library Journal Best Book of 2022
Sunyi Dean
Tor Books
Into the Riverlands 

"A delicious bonbon of a novella about stories and their unreliable narrators, who wink at their...readers fully expecting us to catch on."—The Wall Street Journal
Nghi Vo
Tor.com Publishing
The Paradox Hotel 

"Time travel, murder, corruption, restless baby dinosaurs, and a snarky robot named Ruby collide in this excellent, noir-inflected, humor-infused, science-fiction thriller."—The Boston Globe
Rob Hart
Ballentine
The Wicked and the Willing 

Love demands sacrifice. Her blood. Her body. Even her life.
Lianyu Tan
Shattered Scepter Press
Lesbian Poetry
As She Appears 

Paperback Only

Shelley Wong's debut, As She Appears, foregrounds queer women of color in their being and becoming.
Shelley Wong
YesYes Books
Beast at Every Threshold 

Beast at Every Threshold dances between familial hauntings and cultural histories, intimate hungers and broader griefs.
Natalie Wee
Arsenal Pulp Press
Concentrate 

Courtney Faye Taylor explores the under-told history of the murder of Latasha Harlins―a fifteen-year-old Black girl killed by a Korean shop owner, Soon Ja Du, after being falsely accused of shoplifting a bottle of orange juice.
Courtney Faye Taylor
Graywolf Press
Prelude

Prelude delineates the gay female experience through a poetic reconstruction of the girlhood of Catherine of Siena, a Catholic saint who lived in 1300s Italy and disobeyed her parents by refusing marriage to devote her life to God.
 Brynne Rebele-Henry
University of Pittsburgh Press
Bisexual Poetry
50 Things Kate Bush Taught Me About the Multiverse

This is a book of tragicomic gurlesque word-witchery inspired by the Kate Bush cosmos.
Karyna McGlynn
Sarabande Books
Dereliction 

Gabrielle Octavia Rucker's debut collection of poetry, moves through childhood and into the afterlife with poems that evoke an artful and urgent sense of the author's "insatiable wandering."
Gabrielle Octavia Rucker
The Song Cave
Meat Lovers 

Meat' is a coming of age in which pony clubs, orphaned lambs and dairy-shed delirium are infused with playful menace and queer longings.
Rebecca Hawkes
Auckland University Press
Real Phonies and Genuine Fakes 

What is illusion—a deception, or a revelation? What is a poem—the truth, or "a diverting flash, / a mirror showing everything / but itself"?
Nicky Beer
Milkweed Editions
Lesbian Memoir/Biography
Another Appalachia: Coming Up Queer and Indian in a Mountain Place 

When Neema Avashia tells people where she's from, their response is nearly always a disbelieving "There are Indian people in West Virginia?"
Neema Avashia
West Virginia University Press
Brown Neon

A meditation on southwestern terrains, intergenerational queer dynamics, and surveilled brown artists that crosses physical and conceptual borders.
Raquel Gutiérrez
Coffee House Press
Lost & Found: Reflections on Grief, Gratitude, and Happiness 

"I will stake my reputation on you being blown away by Lost & Found."—Anne Lamott, author of Dusk, Night, Dawn and Bird by Bird
Kathryn Schulz
Random House
Ma and Me

"A nuanced mediation on love, identity, and belonging. This story of survival radiates with resilience and hope." —Publishers Weekly
Putsata Reang
Farrar, Straus and Giroux/MCD
Pretty Baby: A Memoir 

A queer teen rebel escapes small-town Appalachia and becomes Los Angeles's Renowned Lesbian Dominatrix in this searing and darkly funny memoir that upends our ideas about desire, class, and power.
Chris Belcher
Avid Reader Press / Simon & Schuster
Lesbian Romance
Hard Pressed 

For Mira Lavigne, cider is about tradition, elegance, and class.
Aurora Rey
Bold Strokes Books
If I Don't Ask 

Rebecca Keane has it all figured out.
E. J. Noyes
Bella Books
Queerly Beloved 

A people-pleasing baker tries to find her place as a bridesmaid-for-hire.
Susie Dumond
Dial Press
Southbound and Down

Rules will be broken, as well as a number of speed limits and maybe more than one heart …
K.B. Draper
K.B. Draper, LLC.
The Rules of Forever 

Public school teacher Cara Talarico is determined to pay off her student loans by the time she turns thirty-five and has sworn off everything fun to make it happen—including dating.
Nan Campbell
Bold Strokes Books
LGBTQ Romance and Erotica
Kiss Her Once For Me: A Novel 

A festive romantic comedy about a woman who fakes an engagement with her landlord…only to fall for his sister.
Alison Cochrun
Atria Books
Mistakes Were Made 

A sharp and sexy rom-com about a college senior who accidentally hooks up with her best friend's mom.
Meryl Wilsner
St. Martin's Griffin
The Romance Recipe

Amy Chambers: restaurant owner, micromanager, control freak.

Sophie Brunet: grump in the kitchen/sunshine in the streets, took thirty years to figure out she was queer.
Ruby Barrett
Carina Adores
LGBTQ+ Mystery
Dead Letters from Paradise

A spinster postal investigator for the Winston-Salem Dead Letter Office finds herself enmeshed in the mystery of solving who is sending undeliverable love letters to the town's 18th-century hortus medicus.
Ann McMann
ByWater Books
Dirt Creek

Who's lying about what happened at Dirt Creek?
Haley Scrivenor
Flatiron Books
Lavender House

Lavender House is Knives Out with a queer historical twist.
Lev AC Rosen
MacMillan
LGBTQ+ Comics
Mamo

Can Orla shoulder the responsibility of quieting her Mamo's spirit, saving her hometown, and will she have to step up as the new witch of Haresden like Mamo always wanted?
Sas Milledge
Boom! Studios
The Greatest Thing

It's the first day of sophomore year, and now that Winifred's two best (and only) friends have transferred to a private school, she must navigate high school on her own.
Sarah Winifred Searle
First Second

It was way back in March of last year when author and overall cool person KC Luck made a March Madness bracket in the iReadIndies Facebook group spotlighting some of the greatest sapphic tropes. Many readers voted on their favorite one, and after several long days, the winner was finally declared.
Guess what trope won?
Anne Hagan initiated a discussion within a group of authors around the same time, looking to bring together a big, Sapphic, shared universe boxed set project. Most of the authors were intently monitoring the results of the bracket and they began discussing how they could give readers what they desired most.
The readers wanted stories about ice queens. They considered creating multiple characters in the same world, but that would mean pitting ice queens against each other and against groups of people…Until they had a brilliant idea. They would write stories of two ice queens, starting off as enemies, then being forced to collaborate, and ultimately finding their happily ever after.
At first, thirteen authors  said they wanted in. Ten of those ultimately committed to writing a 40,000ish word novella each for a boxed set project. Most thought it would be great fun to create two such similar characters.
They divided up additional tropes like age gap, second chance, and, of course, enemies to lovers, and came up with an overall premise; Conferences full of training seminars lead by presenters from the fictitious International Institute for Women in major cities where our queens could meet. They talked about including a lot of diversity. They plotted all sorts of goodies!
Guess what? The writing was not fun. The authors give kudos to Lee Winter and all of the other sapphic fiction authors who do high level ice queens so well. It's truly hard work writing two very strong willed, opinionated, powerful, independent women in the same story…and then having them fall for each other.
Authors dropped out of the project for various reasons, but a few did because they just couldn't write a two ice queen dynamic.
Three authors saw the project through to the end, suffering their own bumps, bruises, and rewrites along the way; Barbara Winkes, Alysia D. Evans, and Anne Hagan.
Barbara's story is based in lovely Quebec City, Canada. Alysia and Anne's stories share a made up large city venue and a couple of scenes, but their books are drastically different. Alysia's 'city' has a decidedly UK harbor city feel, while Anne's is based on areas in and around Baltimore Maryland in the United States and the Inner Harbor area there.
Barbara, Alysia, and Anne give you the anthology, 'Queen Vs. Queen!' It's on pre-order now, releasing March 21st, 2023.
Buckle up! It's going to be a bumpy ride!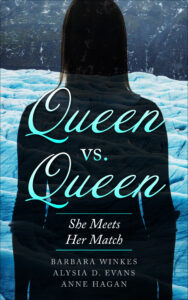 Erin and I would like to thank everyone who entered our February eBook Giveaway. Your support means a lot to us and it means the world to the sapphic fiction authors who write the books we all love and advertise them with us.
Without further ado, the winners are:
Grand Prize – 15 eBooks – Nikka  – n———3@y—o.com
1st Prize – 10 eBooks – Marthita – s——r@a-l.com
2nd Prize – 5 eBooks – Susy – w———–y@o—–k.com
3rd Prize – 3 eBooks – Allem – a——-9@g—l.com
4th Prize – 1 eBook – Maggie – w—-u@y—o.com
All winners have been notified by email by Anne Hagan. If you think one of these is you, and you have not received an email from Anne, please check your spam/junk mail folder.
Winners will select their books from all the books you can see here. There are 177 books to choose from, in a variety of genres, from both indie and traditionally published authors. This list grows every week with books advertised with MyQueerSapphFic.
Didn't win? Please consider checking out some of the books we've featured, and/or the authors who have worked with us.
Congratulations everyone, and happy reading!
Anne