Sports fans in the United States revel all month long every March as high school and college basketball regular seasons come to a close and playoffs and tournaments begin. 'March Madness' afflicts millions of fans of college basketball  every year.
A men's March Madness National Collegiate Athletic Association (NCAA) tournament has existed since 1939. Women's college teams had a tournament sponsored by the Association for Intercollegiate Athletics for Women (AIAW) from 1972 through 1982. There was a smaller association that ran a tournament for women for a only a few years prior to the AIAW. In 1982 the NCAA sponsored a women's tournament in competition with the AIAW tourney, and took full control of women's college athletics beginning in 1983.
The women's tournament for years, did not use the name 'March Madness' or the March Madness branding the men's tournament has always used. Then, in 2021, the NCAA conducted a gender equality review. They found themselves lacking.
After years of women's college players going into the professional WNBA to play out of college beginning in 1996, and successive years of growth in interest in women's college basketball fans were following the women too. The NCAA wasn't keeping pace with their interests. In 2022, the women's tournament was also branded 'March Madness,' officially giving it the name and branding fans, players, and coaches were already feeling.
My wife (this is Anne) is a huge college basketball fan, right down to always rooting for specific teams and rooting against others, no matter how good they are, because she doesn't care for the head coach. Yeah, it's petty. It's also fun to watch her squirm when those teams do well.
We both root for underdogs. Gotta love the underdogs, or in NCAA parlance, the Cinderalla teams! We keep rooting for them until they pose a threat to our favorite teams. Right now, one of our very favorites is in the tournament's final four, The University of Iowa Hawkeyes with their superstar player, Caitlin Clark. We'll be watching Friday night as the Hawkeyes take on the defending champion South Carolina team for the rights to play for it all on Sunday night, April 2nd.
Sapphic fiction authors have been giving us great basketball stories for years. Here are some of my romance and basketball favorites, plus the biography of Brittney Griner – one of the most famous collegiate players to go on to the WNBA. It was published in 2014, years before her incarceration in Russia and subsequent release from a gulag style prison.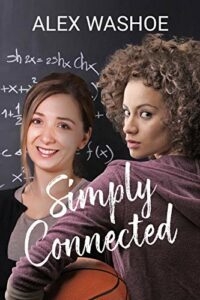 Simply Connected by Alex Washoe
The first book in a popular multi-sport sapphic series.
Once a celebrated child prodigy, Blaise Noether is now a struggling widowed mom trying to keep her head above water while she pursues her Ph.D. Only two things make her really angry: her kid's math textbooks and jocks. In her mind, all athletes are like the bullies who terrorized her in high school. So when she crosses paths with rising basketball star Christie Dillard, Blaise's interest is a null set.
Christie is everything Blaise fears, fiercely competitive, brashly confident, and totally devoted to her game. That she is also endearingly awkward and irresistibly gorgeous is irrelevant data. But when Blaise glimpses a paradigm-shifting epiphany in the geometry of Christie's jump shot, she begins to suspect this jock might be the missing variable that could balance the equation of her life.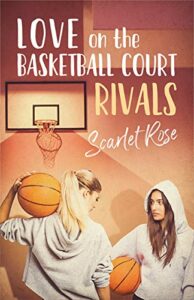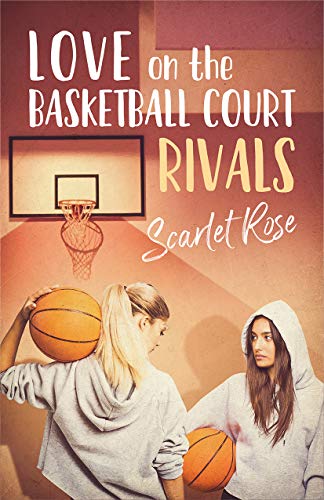 Love on the Basketball Court: Rivals by Scarlet Rose
The first of two books in a series. New adult themed.
It's always been my dream to play college basketball, but the thought of competing against the girl from my rival high school for a spot on the team feels almost hopeless.
Her name is Sarah Wood and she's been a thorn in my side ever since middle school. Her school has beaten my school every time we've played. Now we're not only going to try out for the same team, but we're also going to be roommates? Could life get any worse?
However, just when things couldn't get any more complicated, I find myself developing feelings for her. Am I gay? If my family found out, what would they think?
To make matters worse, our basketball coach has made it clear that someone is getting cut before the season starts and I'm just a walk-on. What if I'm the one who gets cut?
Am I able to put up with Sarah? Am I developing feelings for her? Will I be able to make the team? Find out by reading the book.
WARNING! This book may not be suitable for everyone and deals with some serious issues that may be hard for many people to read about including but not limited to sexual assault and homophobia. All of these issues are serious and are presented in a manner that is respectful that does not glorify or promote.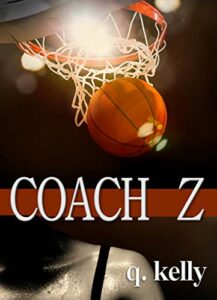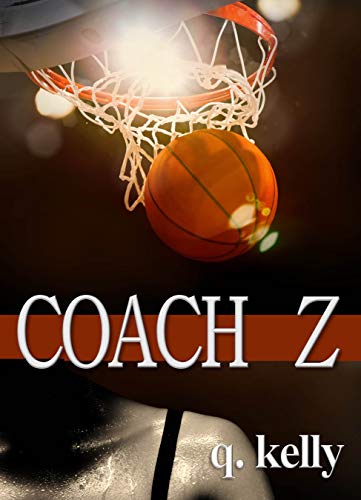 Coach Z by q. Kelly
The first book in a three book series.
Caution: This book does not exactly end in a happily ever after. It's a true series.
Melissa MacKenzie, a basketball star in high school, never wanted to play college ball. The daughter of a legendary women's coach, she has played since she was in diapers. Basketball was always a chore for Melissa, and she never developed the passion and skills necessary to garner much Division I attention. She hoped that by attending college across the country, she could get a break from basketball and carve out her own place in the world.
Parental interference conspired, and Melissa ended up playing for the Richmond College Ravens, riding the bench for four years.
As Melissa's last NCAA tournament approaches, she wonders if she wasted the past few years by not giving her all. However, a series of unfortunate events means that Melissa has no more time to dwell on these woes—because she's being pressed into service. Now she's a starter, and all eyes are on her and the Ravens' head coach, Andi Zappa.
Andi is fighting her own demons, and Richmond College is letting her go after the season ends. The two women work together to ensure that the Ravens don't embarrass themselves too much on the national stage, and they find themselves playing with matters of the heart as well as matters of basketball as the national championship looms.
Will these human frailties doom them or make them stronger?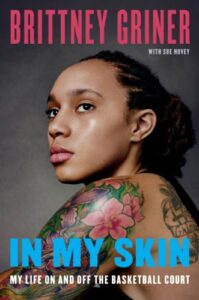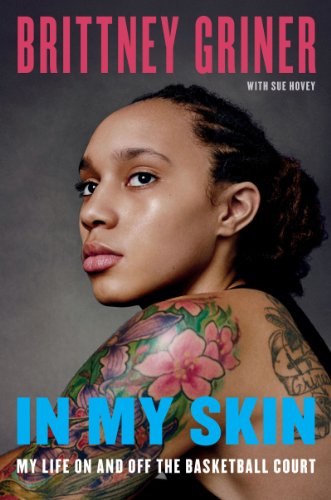 In My Skin: My Life on and off the Basketball Court by Brittney Griner with Sue Hovey
Hailed by ESPN as the world's most famous female basketball player, Brittney Griner, the dunking phenom and national sensation who is shattering stereotypes and breaking boundaries, now shares her coming-of-age story, revealing how she found her strength to overcome bullies and to embrace her authentic self.
Brittney Griner, the No. 1 pick in the 2013 WNBA Draft, is a once-in-a-generation player, possessing a combination of size and athleticism never before seen in the women's game. But "the sport's most transformative figure" (Sports Illustrated) is equally famous for making headlines off the court, for speaking out on issues of gender, sexuality, body image and self-esteem.
At 6'8", with an 88-inch wingspan and a size 17 shoe (men's), the Phoenix Mercury star has heard every vicious insult in the book, enduring years of taunting that began in middle school and continues to this day. Through the highs and lows, Griner has learned to remain true to herself, rising above the haters trying to take her down.
In her heartfelt memoir, she reflects on painful episodes in her life and describes how she came to celebrate what makes her unique—inspiring lessons she now shares. Filled with all the humor and personality Griner has become known for, In My Skin is more than a glimpse into one of the most original personalities in sports; it's also a powerful call to readers to be true to themselves, to love who they are on the inside and out.