Lesbians and other sapphics are cat people, right? Well, some of them. Some are definitely dog people. This post is for all the dog people among us. It includes no less than three books titled, 'Puppy Love,' and one entire series by the same title – thank you Georgia Beers!
Enjoy some time with this crazy group of cool canines and their people! There's romance – of course – but also mystery and paranormal mystery.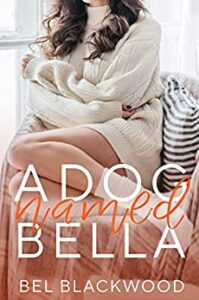 There's no dog on the cover of Bel Blackwood's A Dog Named Bella, but trust me to say there are plenty of dogs in the story. You get, "One ice queen who likes solitude. One firebrand crashing into her life. One snowstorm trapping them together," per the author, plus there are the dogs. Lot's there to love!
***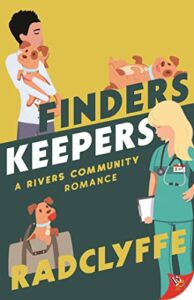 Radclyffe has a book on pre-order right now through Bold Strokes Books, Finders Keepers, that has a whole lot of doggie goodness promise. It comes out June 13th.
***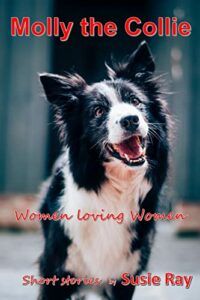 Indie author Susie Ray has a brand new release featuring two novellas which is available right now. The first book is, Molly the Collie. You have to love the expression on that dog on the cover!
***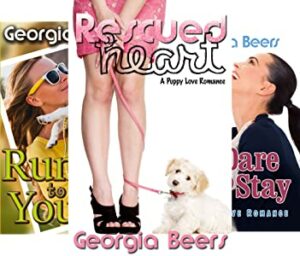 Georgia Beers is a well known dog lover. Any Zoom video conferences and readings you watched during the covid pandemic that featured her, often featured her newest pup (at the time) as well. It's no surprise she's written a Puppy Love Series of three books featuring dogs.
***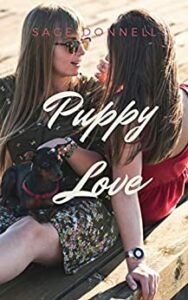 The first of our three 'Puppy Love' titles is the one by Sage Donnell because I'm taking them alphabetically by last name. Boisterous little Chloe helps get Greta and Livy together in this sweet, slow burn, friends to lovers romance.
***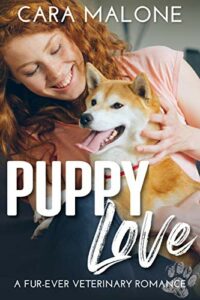 The second 'Puppy Love' titled book comes from indie author Cara Malone as the only dog book in her Fur-Ever Veterinary Romance Series. The book features a Shiba Inu – one of the few dogs I have no experience with – as a very sick pup of Blair's for vet, Marley to tend to. Bet you can guess what happens between Blair and Marley…
Allow me to digress for a minute: I had a hard time with this book. Great story; don't get me wrong. The name 'Marley' conjures up for me that awful movie, 'Marley and Me ' where the dog dies at the end. Did I forget to say spoiler alert? Sorry, not sorry. My supposedly dog loving wife drug me to that. I've never forgiven her. Now I check every movie she wants me to watch before I agree.
***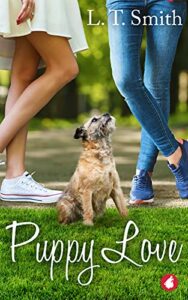 Finally, the third 'Puppy Love' sapphic novel comes to us from Ylva author, L. T. Smith. In this story, border terrier 'Charlie' works on getting Ellie and Emily to build a relationship. It's difficult for Ellie, but the pup is up to the task!
Now then, if there are this many sapphic books titled, 'Puppy Love,' one has to wonder how many mainstream ones there are. Someone count them and get back to me, please! Just romance books is fine.
***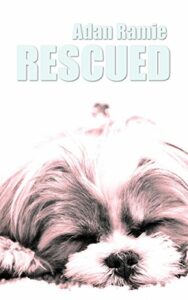 I went digging in the way back files for Adan Rami's 2016 book, 'Rescued,' which is all the title implies packed into a novella sized story. Stanley the Yorkie needs a lot of love in this story. Don't worry, he gets it, but if mention of the movie, 'Marley and Me,' had you tearing up, I'd understand you skipping this one. I promise it has a much happier ending!
***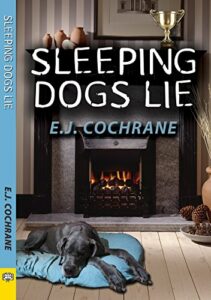 Bold Strokes Books author E.J. Cochran does voices…at least for her human characters! I heard the author of the Maddie Smithwick mystery series read for the first time at the GCLS conference in Pittsburgh in 2019. She's amazing. The stories are great too, especially the first one, Sleeping Dogs Lie, which features Maddie's rescue mutt, 'Bart.'
***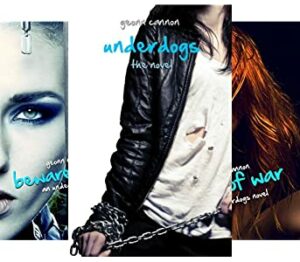 Geonn Cannon's 'Underdogs Series' starts with the book fittingly titled, 'Underdogs.' That said, this is a wolf shifter action/adventure/mystery/paranormal series, not a dog series, per se. It follows the adventures of Ariadne (Ari) Willow, a canidae, a person who can shapeshift into a wolf. The series currently stands at ten books.
***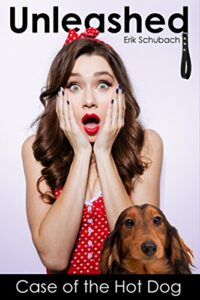 We'll round out this part of the list with Erik Shubach's, 'Unleashed: Case of the Hot Dog.' No good dead goes unpunished for Finnegan (Fin) May in this story that starts with a Dachshund rescue of sorts.
***
Is that enough dog books for you? No? How about one more?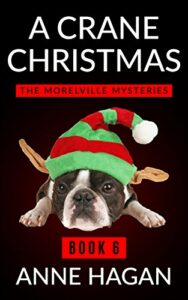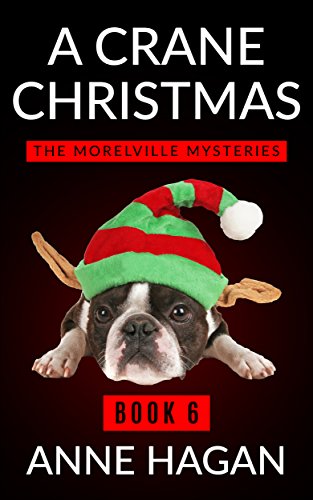 My Morelville Mysteries series and the spin-off cozy mystery series (not strictly sapphic for the cozy) feature some dogs. Most prominent is the full on dog napping story in the  Morelville Mysteries book 6, 'A Crane Christmas.' Don't worry! All the dogs get a happy ending here too!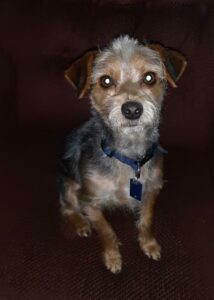 And here's our little guy, Biscuit. He's a 2 1/2 year old Jack Russell/Yorkie mix we've had since December. He was a bit much for my mother-in-law to handle, especially with her older mixed breed dog, but he's just hyper enough for our crazy household!
Happy reading! Go love on your pooches!
~Anne